Functions overview
BF-210A heating/cooling temperature dual-mode controller, enabling the heating or cooling mode, can be widely used in various applications requiring water heating control of solar heat pumps, as well as cooling control of refrigeration storages and freezers.
The controller features one-channel NTC thermistor temperature measurement input, with measurement display accuracy of 0.1 ℃, allowing users to intuitively monitor the temperature rise and fall trends, and one-channel temperature control output (relay NO/NC contact).
The temperature control can be adjusted within the range of -50 °C ~ 120 °C. It is easy to set up by directly adjusting the set upper limit to the desired value.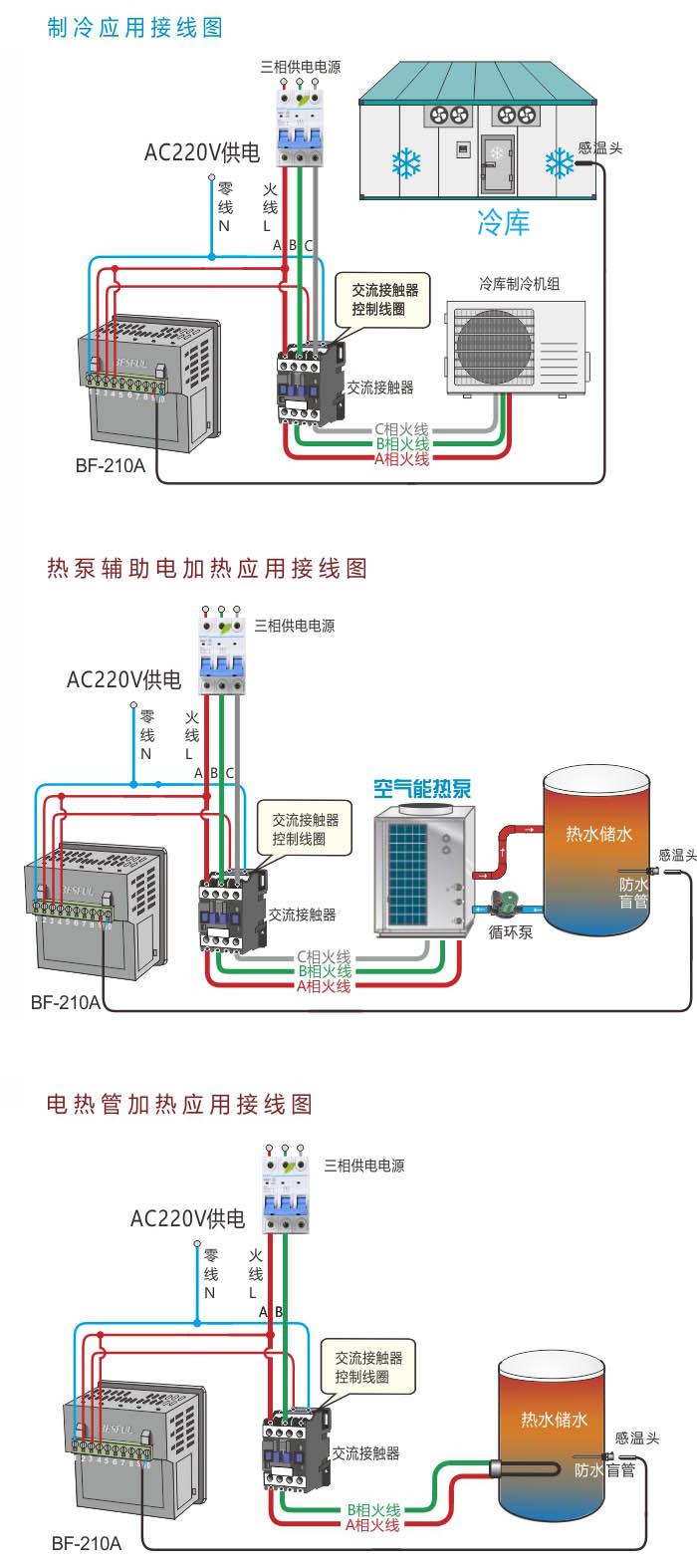 (产品已申请专利,仿冒必究)

Constant-temperature control based on upper and lower temperature limits

Controller can work in the cooling or heating mode

The maximum and minimal temperature limits can be set by users

Adjustable output delay

Temperature measurement deviation adjustment

Manual heating or cooling

Temperature measurement accuracy up to 0.1 ℃

Memorize the set parameter for a long time after power failure

High-precision NTC 10K temperature sensor with high stability and reliability

No compensation required for long-distance (100 m) measurement by the temperature sensor

Thanks to the wide range of rated power supply, the controller is able to ensure stable, reliable and durable operation by adapting to AC80V~240V power supply.
Specifications and Technical Data
| | |
| --- | --- |
| Power Supply and Consumption Power | AC80~240V, 3 W, standby < 2 W |
| Operating Conditions | Storage: -40 ℃~70 ℃; 5%~95% (non-condensing), working environment: 0 ℃~40 ℃; 10%~90% (non-condensing) |
| Display Mode and Resolution | 4-digit LED display, resolution: 0.1 ℃ |
| Range of Temperature Measurement | -50.0~150.0℃ |
| Range of Temperature Control | -50~120 ℃ |
| Keys | Push-type membrane keys |
| Temperature Sensor | One-channel NTC 10K (25℃), B=3435 thermistor temperature sensor |
| Output and Power | NO contact output,  current capacity: 5 A (resistive load) and 1 A (inductive load), able to directly drive inductive loads below 100W |
| Others | Temperature sensing wire can be extended by 100 m with ordinary wire for long-distance connection. Memorize the set parameter for a long time after power failure |

Power Supply and Input & Output Ports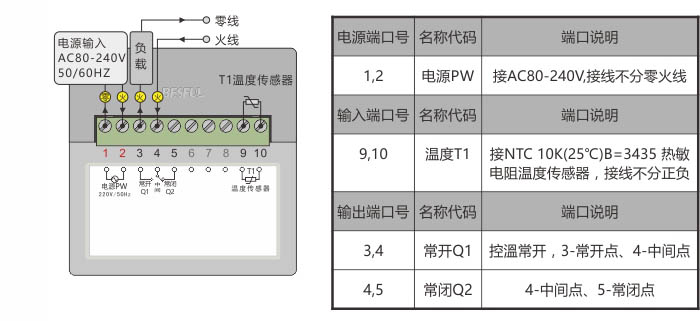 Welcome your suggestions, please fill in the form below to send your message.
Legal statement: our products have applied for a patent or are in the process of patent application, all products are our company's research and development, we have all products of the program source code and the original design information, any copying and counterfeiting, once found, will be subject to legal action! Advocate originality, resist imitation.