Functions overview
BF-M170G is a type of full-featured water heating system controller, which can be used in split solar water heating systems and suitable for pressure-bearing or non-pressure-bearing water tanks, with a heating power output of 2000 W. Thanks to the advantage of additional 4 wire controllers that can be connected to the main unit in series, user settings become more convenient and quick, as users are allowed to change and set the operating parameters just in their own rooms, instead of going to the machine room each time. For users with limited budgets, it is a cost-saving choice to use only the main unit for control without installing any optional wire controller.
In order to meet various demands of controlling water heating systems, this product is integrated with three groups of functions, i.e., water feeding control functions (water feeding in case of water-shortage, thermostatic water feeding, timed water feeding, manual water feeding), heating control functions (heat collection circulation, timed auxiliary heating, manual heating) and water return control functions (timed water return, manual water return).
BF-M170G is an ideal solution for detached townhouses, residential houses, resort hotels, inns and other applications, and able to ensure large-capacity heating operation with stable and excellent performance.
You are welcome to use BESFUL controllers and enjoy the premium user experience brought by BESFUL controllers.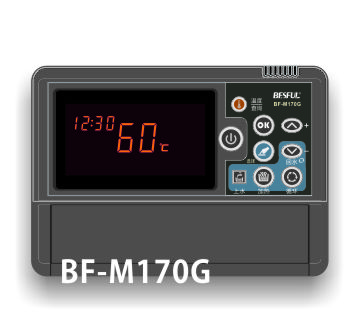 BF-M170G is a full-function controller for hot water system. The whole system is controlled by a host computer, which can connect four control panels to the user to adjust the work of the host remotely.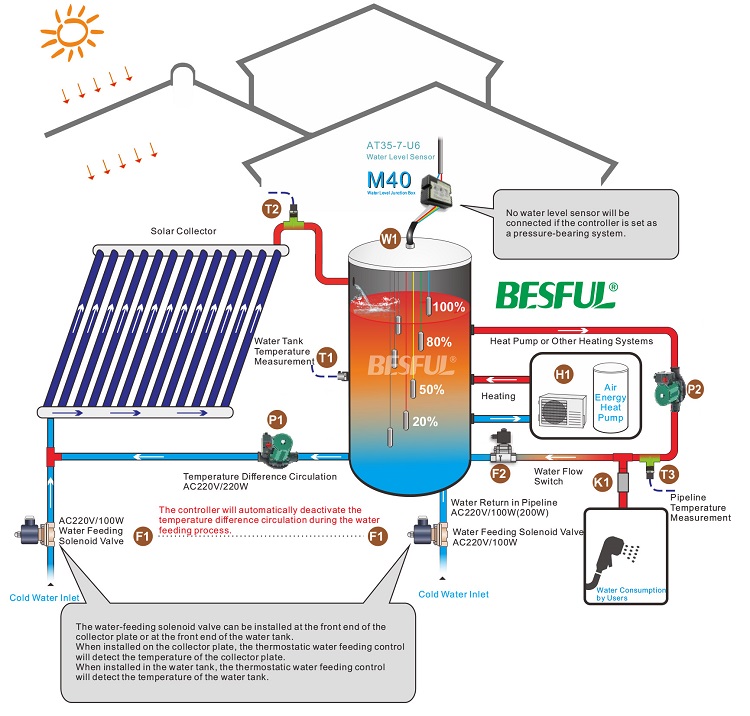 Quickly understand product features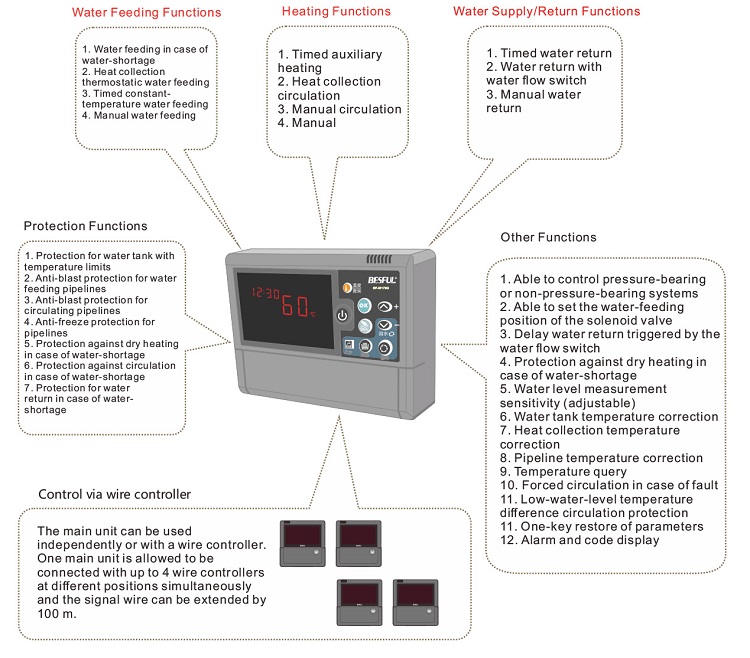 Specification and technical parameters
Product parts list
1.Host x 1 (excluding control panel)
2.NTC10K-A-2 Water Tank Temperature Sensor X 3



Appearance of size(mm)
160(L)×112(W)× 40(H)
The installation
Wall-mounted mounting
Weight
N/W:0.545Kg
G/W:0.684Kg
Working power supply and power consumption
Work Power AC80-240v:3w;Standby:<2w
Environment
-10℃~50℃
Display
LED Digital Display
The keys
Pressing Conductive Silicone Keypad
Input

Three-way 10K NTC thermistor temperature input and water level sensor input:
●T1. Water tank temperature sensor input;
●T2. Heat collector plate temperature sensor input;
●T3. Pipe insulation temperature sensor input;

●W1. Input of water level sensor.

Output

◆ electric heating output, load power AC220V,2KW;
◆ temperature difference circulating pump output, the load power is AC220V,200W;
◆ output of pipeline circulation pump (or water booster pump), load power AC220V,200W;
◆ the output of the water booster pump, the load power is AC220V,200W
◆ output of water solenoid valve, the load is DC12V/2W;

Real-time Clock
Real-time clock is 24-hour system
Timer Range
00:00~23:59(Hour、minute)
Temperature & water-level Measurement
Temperature:-19~99℃
Water-level:0%、20%、50%、80%、100%
Set range
Heating temperature setting:0~85℃
Full water level (upper limit) setting range:50%、80%、100%
Control range of heating temperature & upper water-level
Temperature of water heating control rage:0~85℃
Full water level (upper limit) setting range:50%、80%、100%
Other parameters
◆ The temperature sensor wire can be connected to a distance of 100 meters by a common wire.
◆ Set parameters to maintain memory for a long time after power loss
◆ Temperature control water temperature control range: 10 ~ 80℃
◆ Temperature difference control range of collector plate: 4 ~ 30℃
◆ The temperature range of the water tank to stop the cycle of temperature difference: 55 ~ 99℃
◆ Pipe insulation temperature control range: 20 ~ 50℃
◆ Anti-freezing cycle temperature control range: -10 ~ 10℃
Power and Input/Output Port



Welcome your suggestions, please fill in the form below to send your message.
Legal statement: our products have applied for a patent or are in the process of patent application, all products are our company's research and development, we have all products of the program source code and the original design information, any copying and counterfeiting, once found, will be subject to legal action! Advocate originality, resist imitation.